Expressing the brand
through the store design
Canoe on Main Street, Hawaii
Compared with other Canoe stores we've designed this one presented a special challenge. The space was long and narrow, and pulling traffic all the way through to the back would require some real ingenuity. After a weekend research trip to sleepy Hilo town, we decided to use "a stroll down Hawaii's Main Street" as the metaphor for the new store design.
Working from photos of Hilo, Kaua'i and O'ahu, we designed a series of fixtures, reminiscent of little local stores, whose architecture reflected our colorful island cultures - from Hawaiian to Chinese, from surfers to paniolos. This device let us keep the stimulus level high while framing the merchandise in a uniquely Hawaiian context.
To keep the many little stores in character, we used many local materials to support the theme; coconut wood flooring, carved tikis, tapa, bamboo, coconut thatch, tin roofs, board and batten siding, etc. We painted the ceiling the color of the sky between sunset and darkness, a deep purple blue that dramatically set off the merchandise and fixtures.
We also decorated each of the fixtures with suitable objects and images; glass fishing balls, old sheet music, sake containers, and to top it off, a crowing rooster atop the Paniolo store.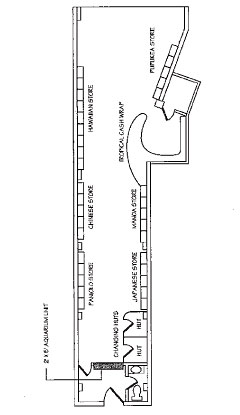 The store was 17' wide at the street, but only 11' wide beyond the entry. To help pull traffic through, we installed a brightly lit 100 gallon salt water aquarium in the back wall.