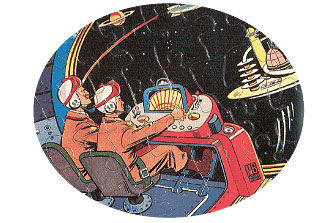 Bringing the concept to life
For a themed retail concept to be successful, the brand experience must come alive in the retail environment. With Cosmic Candy and the Popcorn Planet, we wove a convincing tale about an enduring childhood fantasy and ex-pressed it consistently through the theme, materials, and overall design program.
Our story centered around a magic rocket ship filled with candy, on a secret mission to find the mythical Popcorn Planet.
We began by researching vintage science fiction movies, TV shows, toys, modern industrial materials and high tech lighting systems. After we developed the theme and produced the concept sketches, we worked with the architects of AM Partners to help build out the concept. While each store is slightly different, the strength and adaptability of the theme to different spaces carries the brand through from mall to mall.

These visual and conceptual references from America's rich science fiction history provided wonderful clues for what would ultimately become the Cosmic Candy spaceship. From the top, a Milton Bradley Captain Video puzzle, a 1958 Erector set, and the ever popular robot.



Top: The store entrance at Pearlridge mall, given the deluxe treatment by AM Partners. Middle and bottom: A blend of campy humor, high tech fun and brightly colored candy create an enjoyable and memorable place to shop.