Moloka'i Ranch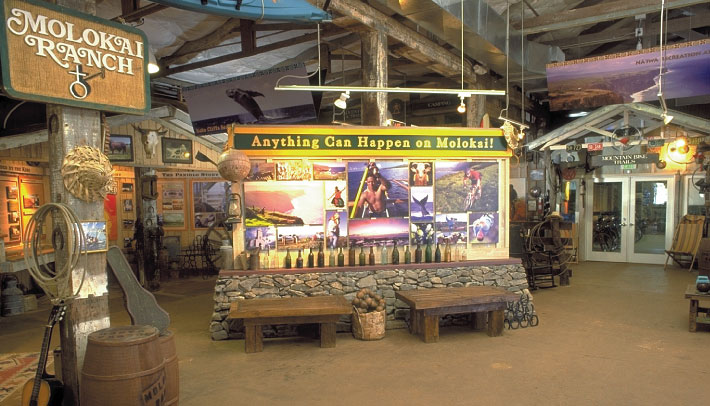 Moloka'i Ranch Interpretive Center
Moloka'i Ranch is a low impact eco and adventure tourism destination on the Island of Moloka'i. Visitors stay in solar powered tentalows and ride horses, bikes, explore the coastlines and take cultural hikes. Moloka'i Ranch was looking for an engaging way to greet visitors and tell the story of the West End of Moloka'i as a way of explaining the island and supporting the sale of real estate.

The concept for the Interpretive Center revolves around a series of exhibits that use the concept of Molokai's natural and cultural history as a framing device for the contemporary version of the destination experience. The exhibit is divided into several distinct areas:

The Welcoming Wall
The Natural and Cultural History of the West End
The History of Moloka'i Ranch
Activities at the Ranch
Biker Bob's Mountain Bike Garage
The Moloka'i Room (see floorplan at right)

The Welcoming Wall
A wall with photographs depicting the great range of activities available at the Ranch. Across the top of the wall is a popular Moloka'i expression, "Anything can happen on Moloka'i!"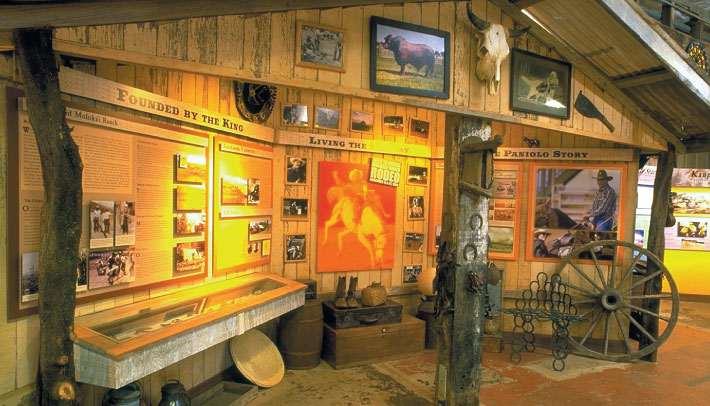 The History of Moloka'i Ranch
This section covers in the history of the Ranch from its beginning as a sheep station owned by Kamehameha V to its current use. Along the way we explore the early efforts to develop diversified agriculture, the pineapple plantation years and the history and lore of Molokai's fabled paniolo tradition.

These details show some of the panels from the photograph above.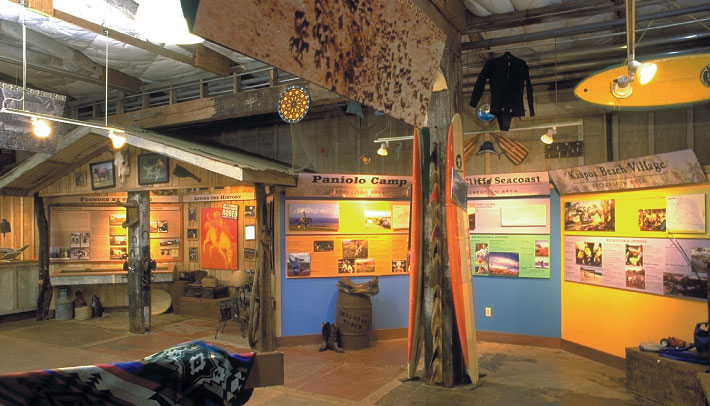 Ranch Activities
The Ranch was organized into four recreation areas, three which are anchored by camps. Paniolo Camp was the center for mountain biking and equestrian activities, Kolo for ocean and extreme sports, and Kaupoa for relaxation and swimming.

This section of the exhibit provides an overview of each of the recreation areas and the activities available to the visitors.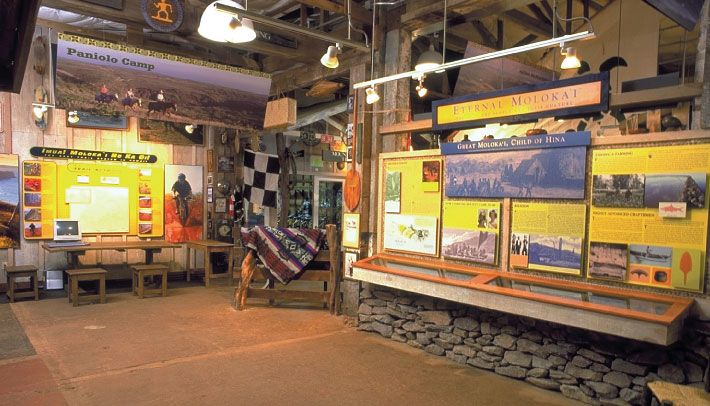 Natural and Cultural History
An overview of the natural and cultural history of Moloka'i, the volcanoes that formed it, the culture that grew up on it, the religion, mythology and means of survival. An artifact case explores the two most important foods, fish and poi.
Recreation Areas
To provide visitors with a comprehensive navigation system for the ranch, we designed a series of maps which organized the Ranch's 53,000 acres into recreation areas. We developed a trail marker system based on Hawaiian petroglyphs for implementation on the trails and printed materials.