Waikīkī Historical Markers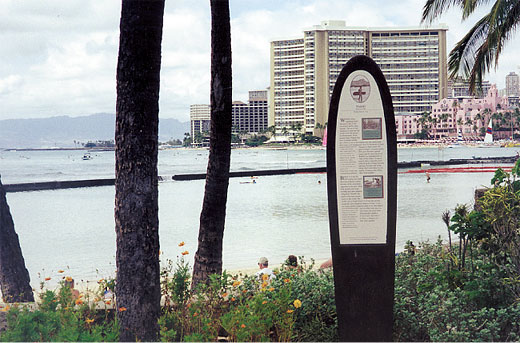 Waikīkī's Untold Story:
The Waikīkī Historic Trail was inspired by a newly published book by Dr. George Kanahele - "An Uncommon History: Waikīkī from 100 AD to 1900 AD." The marker system was sponsored by The City and County of Honolulu, the Honolulu City Council, the Queen Emma Foundation, Outrigger Hotels Hawai'i, and Kyo-Ya Co. Ltd./ITT Sheraton Hotels. Designed for both residents and tourists alike, the Trail's educational and historic benefits include:
Enhancing the awareness of Hawaii's history; in its buildings, archaeological sites, and other points of interest.
To increase community pride, through increasing knowledge about Hawaii's unique history.
To encourage and promote preservation of one of our most precious resources, our special culture.
To help foster "heritage" tourism, a growing facet of the visitor industry.