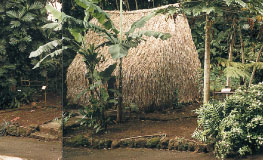 Reinterpreting the ethnic exhibits
The existing ethnic exhibits were run down and disorganized. They lacked a common thread that could help build an understanding of the different cultures.
The five exhibits featured Hawaiian, Japanese, Filipino, Portuguese, and Chinese "villages." For each of these cultures, we researched five areas: history, shelter, food, religion, and the use of color. This provided a framework for comparing and contrasting each group and also linked it back to the overriding concept of color in nature used throughout the park.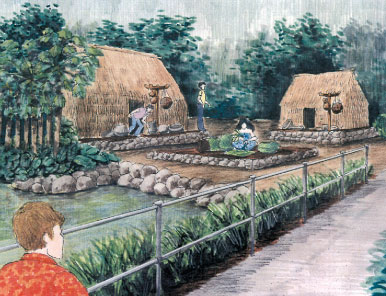 The Hawaiian exhibit
After researching the five cultures around a common theme, we reconceived each village to provide interpretive signage and areas for actively demonstrating aspects of each culture. In this rendering, the Hawaiian exhibit was resituated on a pond and enlarged, and landscaped with native medicinal and edible plants.